Cardigan
There is an old village hotel, once a Manor House of over 800 years of age, that is said to be haunted by the ghost of a woman and her "soft footsteps". The woman is described as being young and "beautiful". She is dressed in a long, robe-like dress, and her hair falls "freely about her face and shoulders". It is said that this attractive apparition, is none other than Princess Nest, a young princess from distant Welsh history…
Princess Nest was the daughter of Rhys ap Tewdwr, a Welsh prince and was born around 1080. After her father's death in 1093 she spent much of her youth in the court of Henry I by whom she had her first son. In 1100 she married Gerald de Windsor, an Anglo-Norman baron who was much older than Nest. He was constable of Pembroke Castle at the time and was given the site of Carew Castle as a dowry. Together they built the first castle on the site in which to bring up their family of at least five children. By now however Nest was the most beautiful woman in Wales and Owain ap Cadwgan, son of another Welsh Prince, was so overwhelmed by her beauty that one night in 1109 he is said to have scaled the walls of Carew Castle, started a fire and raised the alarm. In the confusion Gerald escaped while Nest remained - perhaps not unwillingly - to be taken prisoner by Owain. Gerald's honour was satisfied 6 years later when he retrieved his wife, along with two new children by Owain, and killed him in battle. Gerald died the following year. Nest then married Stephen, Castellan of Cardigan and had yet more children by him. It is thought that Nest died around 1136 after a very colourful and eventful life.
Refs:
For a full account of the haunting, please read "Ghosts of Wales" by Peter Underwood (1978), published by Corgi.
http://www.carewcastle.com/english/carews_char/char.htm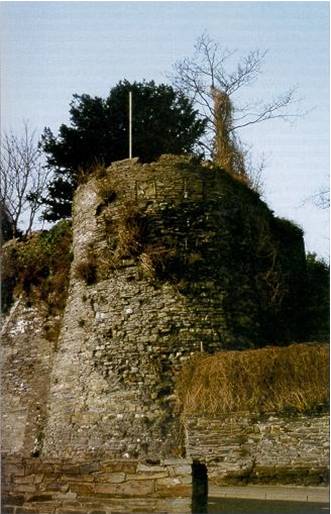 Cardigan Castle
The ancient ruins of Cardigan Castle dominate the skyline of the town as the castle dominated by its history for so many years. Although today the castle is a shell of its mediaeval splendour, it still possesses that atmosphere of mystery and enchantment as it majestically guards the gateway to the Teifi. The first Normans came to Cardiganshire between 1070-1072 when they are reported to have 'ravaged' Ceredigion but failed to take hold and withdrew. Cardigan remained in Welsh hands until 1092 when the Normans returned and built forts and castles. These were of wooden construction and the first castle was built about one kilometre down river from the present town near Old Castle Farm in 1093. According to some sources the castle was rebuilt by the Welsh prince Cadwgan ap Bleddyn by 1099. Lord Rhys demolished the castle to the ground, re-building it in stone and mortar in 1171. During Christmas 1176, the castle became famous as the venue for the first National Eisteddfod of Wales. Robert Waleran extensively rebuilt it in 1244. He erected a new well-fortified keep and town wall to protect the townsfolk living outside the castle from attacking armies. It is this castle that forms much of the ruins that remain today.
The ancient castle has inevitably been associated with numerous myths and legends over the years: not least are the tales about its many ghosts and poltergeists, one of which - Lady Helen Lethbridge - was one of the first occupants of Castle Green House who died of loneliness and has been seen frequently over the past 40 years, the latest sighting taking place in August 1986. Another is Mr. George Davies who committed suicide in the castle and has come back in the form of a poltergeist to haunt it. Perhaps the most famous legend associated with the castle is that of the two tunnels leading from the north tower under the river Teifi to St Dogmaels Abbey and Cilgerran Castle (an impossible feat in mediaeval times, so this enchanting legend is probably untrue). For almost a millennium Cardigan Castle has withstood siege, arson, demolition, years of decay and even gunpowder with dignity and defiance. The ancient walls have defended the Teifi since before the town was in existence and despite the vegetation that has partly overrun its battlements, it still possesses an aura that is evident to any visitor. We all look forward to its eventual restoration, when all can appreciate its significance as a Major Welsh Historical Site.
(Please note that Cardigan Castle is private property).
Ref:
www.aber.ac.uk/~dcswww/Telematics/ leader_ii/commerce/card/history.html