Prestbury is located just outside the town of Cheltenham, and lies at the one end of the world-renowned Racecourse. The village and its surroundings can only be described as English beauty at its best. It's setting in the Cotswolds adds a greater air of mystery.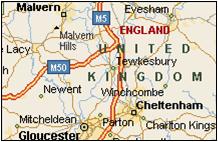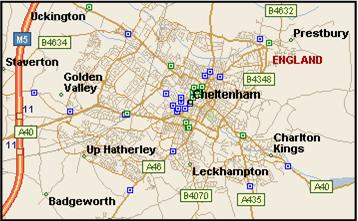 More than two dozen spirits are said to haunt its streets and buildings, making Prestbury a haven for ghost-hunters. When I visited one Sunday afternoon in May 2005, I saw no ghosts - but my camera decided not to work on any part of the main street. Yet, upon returning to my car, it would function normally. Annoyingly, I had replaced old for new batteries in one of the shops on the main road some minutes before. Paranormal? I doubt it. Frustrating? Damn right!!
Idsall House

A man working in the basement was pushed from behind by an unseen presence.

Burgage Area

Several ghostly horsemen have been heard and seen in Shaw Green Lane and the Burgage - one reputedly a medieval rider heading to Edward IV's camp at Tewkesbury during the Wars of the Roses who was killed by an archer, and another a knight in armour.

Mill Street

During road works a skeleton was found with an arrow between the ribs.

Witnesses have seen strange figures drifting in and around these roads,

and are thought to be a legless man, a lady in white, an old lady gathering wood and the sounds of marching men!

Prestbury Church

The most infamous ghost in Prestbury - the Black Abbot - is regularly seen in the church and churchyard and occasionally in other spots including the High Street.

The Black Abbot's ghostly wanderings traditionally occur on three church festivals - Christmas, Easter and All Saints' Day.

He did not show whilst I was there, but did he mess with my camera?

Prestbury House Hotel

The ghost of a young girl has been seen in the garden of the Prestbury House Hotel, which is also said to be haunted by the sound of horse's hooves belonging to the rider who was killed during the Civil War by a rope across the road which severed his head!